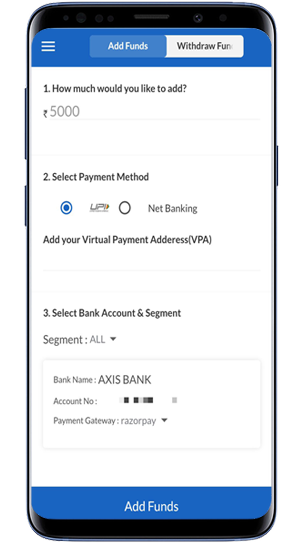 Transfer funds from your bank account to trading account instantly through InvestMart App or web, UPID or QR code
InvestMart App:
Step 1: Login to your Investment app
Step 2: Click on the menu bar
Step 3: Click on the Fund Transfer option in the menu bar.
Step 4: Select payment method i.e. UPI or Net Banking.
Step 5: If selecting UPID, add your upid and authenticate the payment.
Step 6: If selecting net banking, then select Bank account mentioned below and proceed for payment.
Transfer funds through cheque deposit:
Step 1: Issue a cheque in favour of Latin Manharlal Sec. Pvt. Ltd.
Step 2: Deposit the cheque in one of the following banks where Latin Manharlal has an account or hand it over to your relationship manager or at nearest Latin Manharlal Branch.